---
After the better part of a century, few moments in American history still carry the gravity that the attack on Pearl Harbor does. Each year, Pearl Harbor Day is celebrated to commemorate the attack against the United States that occurred on December 7th, 1941, at least on its face. Perhaps more cynically, the value of remembering the tragedy truly lies in the sense of jingoism that the memorial reinforces in the American public. That premise is at the core of the western world's romanticization of World War II, which always glosses over the horrors and crimes against humanity committed by all nations involved in the conflict; whether Axis of Allied.
(Article by Blueapples republished from ZeroHedge.com)
In a microcosm of that, Pearl Harbor's chauvinistic characterization of wartime America notably overlooks one of the saddest chapters in the country's history: the implementation of internment camps for Japanese-Americans. That initiative put the supposedly morally exalted United States on par with the Third Reich and USSR as state's which created their own concentration camps to imprison citizens and residents of their respective countries, making innocent people the casualties of an ideological crusade. On the morning of December 8th, 1941, the owners of the Japanese-owned Wanto Grocery store rushed to their business in the wake of the attack to post a sign which read "I Am An American" in a display of solidarity. The effort of the Masuda family to mend cultural hostility aimed at Japanese-Americans sadly became a futile effort against a mob mentality which arises in a different iteration in 2022.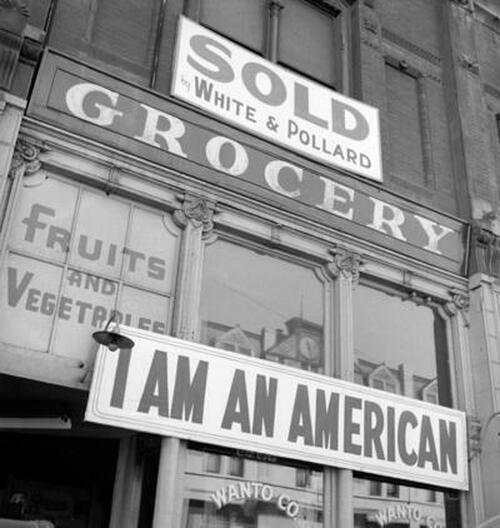 All these years later, the Hegelian axiom that "the one thing we learn from history is that we do not learn from history" rings true with an especially daunting echo. Amidst the Russian Federation's invasion of Ukraine, a growing chorus of calls to boycott Russian companies and products have gained momentum across the nation. Yet, this initiative does little more than highlight the ignorance of the American public about Russian culture and history. The US — a nation whose empty neoliberal propaganda supposedly decries xenophobia — is entirely fine with ostracizing people on national and ethnic lines when it serves their political agenda.
Perhaps the ignorance of the American NPC public backing these boycotts is made no more apparent than the collateral damage it causes for companies who are perceived to be Russian due to a lack of cultural enlightenment from the self-proclaimed noble western world. The examples of Smirnoff and Stolichnaya vodka illustrate the excruciating irony of this circumstance. While those companies products have been removed from stores, the "political activists" doing so neglect to consider that neither Smirnoff nor Stoli are produced in Russia. Smirnoff describes itself as being "proudly made in America" while Stoli is distilled in Riga, Latvia. The latter of the companies had to release an official statement elucidating its nation of origin to avoid being swept up in the rising anti-Russian cultural trend.
One would think that a civilization so enlightened which lauds diversity and inclusion would have a greater understanding of the heritage and history behind companies, organizations, and people that coalesce into the diverse make up of its populous. Instead, the hubris of that self-absorbed sense of moral superiority is a display completely lacking self awareness. All it shows is that diversity, like anything else, is only as good as the value it has for political purposes. That superficial application of the ideological position entirely undermines everything it stands for in an embodiment of the gilded state of the American empire where almost nothing has any substance behind it other than how it can advance the interests of the elite.
Case in point is made in the logical inconsistencies of our elected officials who have taken this tenor. Texas Gov. Greg Abbott was one state leader who called upon businesses in his state to remove Russian products from their shelves. While Abbott openly espouses his support of boycotting Russian goods, those who join him in that initiative gloss over the fact that the governor signed a bill into law which forbids the boycott of Israeli-owned companies and their products. Since the Texas Anti-BDS Law was signed into effect in 2017, Abbott has had to reauthorize an amended version of the bill to accommodate rulings of several court cases challenging it on First Amendment grounds. So when Abbott speaks brazenly about citizens exercising their right to protest, he does so in an entirely disingenuous tone knowing full well that he would violate that same right of Texans' if it came to standing up against a political interest that has enriched him.
The double standard of America takes against its opposition is readily apparent in the narrative it's maintained against the Russian Federation. In highlighting their opposition to Russia's invasion of Ukraine, Fox News brought in former US Secretary of State Condoleezza Rice (who has 2 z's in her name for some reason…) as a geopolitical analyst. "I have argued that when you invade a sovereign nation, that is a war crime," host Harris Faulkner told Rice, as she nodded along in apparent agreement. "I mean, I think we're at just a real, basic, basic point there." she continued before studio camera's panned to Rice who enthusiastically nodded her head in agreement in an utter display of either party lacking any semblance of self awareness. Rice expounded upon the host's point by concurring that the same act that she supported in Iraq was in violation of international law. She then proceeded to use the stage to return to her typical tone of calling for US intervention in a foreign region it has no business in.
Fox News, a MSM media outlet which cultivated public sentiment for the US invasion of the sovereign nation of Iraq along with one the architects of that war literally admitting that they were each complicit in what they acknowledged as a war crime shouldn't really come as any surprise. Of course, the hypocrisy of these people knows no bounds and it certainly doesn't end there. To the point, the boycott of Russian goods because of human rights considerations when China sends more imports to the US than any other nation lacks any contemplation about moral and ethical concerns. The list of contradictions from the empire of lies goes on but continuing to take note of these examples is a dangerous risk of one's sanity.
The cognitive dissonance of the American public that makes its xenophobia against Russia such a powerful tool is symptomatic of the cancer destroying this country and many others: statism. Friedrich Nietzsche famously penned "God is dead" but the edgelords that take that motto to heart overlook his forewarning that the church would be replaced with the worship of the state. After all, the issues that arose around religion weren't because of any prophet, saint, or doctrine but because of the fallibility of man and the institutions it created which would corrupt even the most noble endeavors. Democracy is in every way on par with what religion was, it's an illusory concept used to instill a false sense of class consciousness among the masses. They follow the cults of personalities of different leaders by buying into identity politics because they themselves as individuals are so often devoid of any true sense of identity.
For as long as that empty allegiance to the state exists it will be possible for world leaders to pit slav against slav for the enrichment of oligarchs or for the big guy to get his 10% for as long as he can keep an installed government in power to cover up his political corruption. Though that dynamic is the incarnation of evil, the sheeple masses fail to account for their agency in this sad state of affairs. Evil will always exist. All humanity can determine is where it exists as a challenge that serves to strengthen our virtue or if evil will triumph in the wake of apathy that is indicative of how lost we have become. Sadly, the present state of global affairs is not an auspice portending a benevolent conclusion to man's rapidly descending downward spiral.
Read more at: ZeroHedge.com
Submit a correction >>